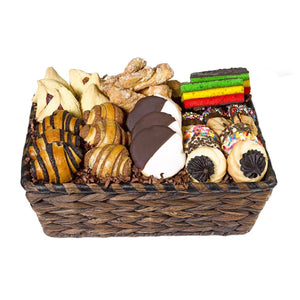 Shiva Sympathy Jewish Cookies Basket
Regular price $97.50 Sale
Send this thoughtful basket to someone in need. This beautiful gourmet Shiva gift basket is filled with sweet comfort baked goods to make their mourning a little easier, including Chocolate & Cinnamon Rugelach, Sprinkle Cookies, Black & White Cookies, Kichel, flavored Hamentashen & Rainbow cookies. Relax knowing your friends or loved ones will savor a delicious gift that expressed your condolences and shows how much you care. Suitable for a Shiva House, Family or Memorial Service. 
All items are 100% Kosher Pareve & are Pat Yisrael.
Includes a beautiful gift note.
This Shiva gift basket includes:
3 Chocolate Rugelach 

- 

OU Pareve, 

Pas Yisroel

3 Cinnamon Rugelach 

- 

OU Pareve, 

Pas Yisroel

4 Hamentashen 

- 

OU Pareve, 

Pas Yisroel

3 Kichel Cookies

- 

OK Pareve, 

Pas Yisroel

2 Rainbow Cookies 

- 

OU Pareve, 

Pas Yisroel

3 Black & White Cookies 

- 

OU Pareve, 

Pas Yisroel

9 Sprinkle Cookies 

- 

OU Pareve, 

Pas Yisroel

Gift Basket & Ribbon