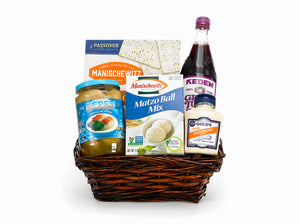 Traditional Passover Seder Gift Basket
Regular price $79.99 Sale
Description
A classic basket with all Seder essentials ready to get you started! Included inside are holiday staples such as Matzo, Grape Juice, and Gefillteh Fish. 
This traditional Passover Basket is great to celebrate the holiday with family and friends. 
All products are OK or OU Pareve, Kosher for Passover. 
Contents

Matzo - 1 LB
Grape Juice 
Gefillteh Fish 
Matzo Ball Mix
Zesty Horseradish Sauce - 9 Oz
 Includes a Gift Card with your personalized message. Add your message at Checkout. 
Matzo is packed safely, but due to the fragility of this item, it is possible that some pieces may arrive cracked. We cannot be responsible for breakage.