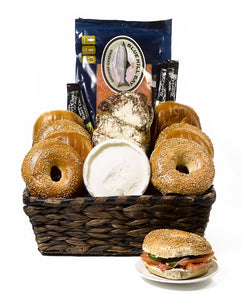 Bagels & Lox Gift Basket
Regular price $189.00 Sale
Enjoy a delicious Bagel with lox & cream cheese, that is always enjoyed. This classic gourmet assortment includes fresh lox, soft and chewy bagels, cream cheese, creamy chocolate Babka, and some coffee packets to sip along with. 
All items are 100% Kosher. Baked Goods are Pat Yisrael, and Cream Cheese is Chalav Yisrael - Dairy. 
Includes:
Smoked Salmon - 1 LB
Bagels - 8
Chocolate Babka Cake - 1 LB
Cream Cheese - 8 oz 
Coffee Packets - 4
Woven Gift Basket 
Includes a Gift Card with your personalized message. 
To ensure freshness this basket requires Overnight Shipping.
Select shipping method at checkout.