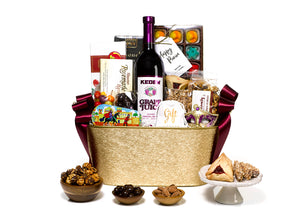 Festive Purim Gift Basket
Regular price $169.00 Sale
Wish your friends and family a Happy Purim with this Festive Purim Basket! Packed with all-time favorite Purim foods including Hamentashen, Grape Juice, and sweet treats! This basket is sure to deliver joyous wishes and imbues a Festive Holiday Spirit. 
All items are100% Kosher & is Pat Yisrael. Dairy Chocolates are Cholov Yisroel. 
This basket includes
Assorted Holiday Marzipan - 18 pieces - 

OU Kosher Pareve

Rolled Chocolate Wafers - Badatz Yerushalayim
10 Flavor Jelly Belly Gift Box - 

OU Kosher Pareve

Grape Juice Bottle - 

OU Kosher Pareve

Hamentashen - 4  - 

OU Pas Yisroel. 

Schmerling's Rosemary Swiss Milk Chocolate Bar - Badaz Cholov Yisroel
Caramel Chocolate Drizzle Artisinal Popcorn -  2.5 oz - 

OU Kosher Pareve

Roasted Salted Almonds - 

OU Kosher Pareve

Chocolate Cookie Pops - 

OU Kosher Pareve

Grager & Decorative Mask
Gift Basket, Gift Tag & Ribbon 
Includes a Gift Card with your personalized message.