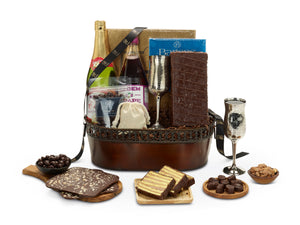 Elijah's Passover Gift Basket
Regular price $149.99 Sale
Description
This Premium Elijah's Gift Basket is brimming with Holiday drinks and gourmet treats. Included inside is an Elijah's Kiddush Cup, Sparkling Cider and Grape Juice to sip. Delectable chocolates from a beautiful assortment of Bittersweet silky chocolates Gift Box & Bittersweet Chocolate Matzos. With Seven Layer Cake and more! This elegant basket comes topped with a hand tied bow. 
All products are OK or OU Pareve, Kosher for Passover.
Contents
Grape Juice
Sparkling Apple Cider
Elijah's Cup
Bittersweet Chocolate Assorted Gift Box - Non dairy
Bittersweet Chocolate Matzo Gift Box - Non dairy 
Seven Layer Cake
Chocolate Covered Almonds
Roasted Salted Almonds 
 Includes a Gift Card with your personalized message. Add your message at Checkout.