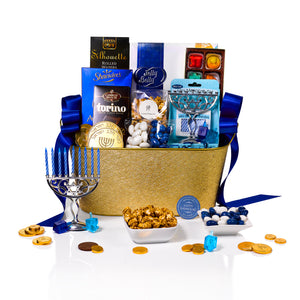 Elegant Hanukkah Gift Basket
Regular price $189.00 $175.00 Sale
Send warm wishes and big smiles for the Holiday with this Beautiful Hanukkah Basket! A Classic basket filled with abundant goodness! Brimming with Gourmet Kosher treats including Marzipan, 20 flavor Jelly Belly's,  Chocolate Bars, and of course Chocolate Coins. Alongside with a Mini Menorah and Dreidels. 
All items are 100% Kosher Pareve. 
This basket includes
20 Flavor Jelly Belly Gift Box
Assorted Holiday Marzipan - 6 piece 
Rolled Chocolate Wafers
Shneiders Dark Chocolate truffles - Pareve
Torino Noir Swiss Chocolate Bar -Pareve
Mini Menorah & candles 
Extra Large Chocolate Coins - 2
Chocolate Coins 
Dreidels 
Blue Jordan Almonds 2.5 oz
White Jordan Almonds 2.5 oz 
Gourmet Carmel Popcorn 2.5 oz 
Gift Basket & Ribbon 
 Includes a Gift Card with your personalized message.