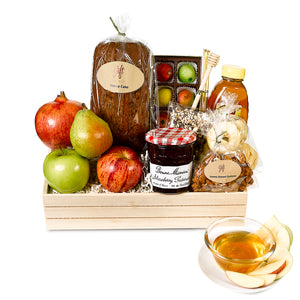 Rosh Hashanah Apple & Honey Wooden Crate
Regular price $148.99 Sale
AVAILABLE TO SHIP FROM LOS ANGELES 
A fresh and delicious Kosher Gift for Rosh Hashanah. This traditional Apple & Honey Wooden Crate is filled with all you need for a Sweet New Year! A perfect gift with a great balance of sweet and natural delights. From apples & Honey to juicy pomegranate this will make your holiday complete!  
*Please note the fruits may come in a separate box to preserve its freshness*
To maintain freshness in this product needs overnight/two-day shipping. 
All items are 100% Kosher, Pareve & are Pat Yisrael. 
Includes
Granny Smith Apple
Gala Apple
Pear
Pomegranate
Honey Cake 
Honey - 1 LB
Wooden Honey dipper
Strawberry Jam
Dried Apple Rings
Honey Glazed Cashews
Assorted Fruit Marzipan - 6 piece