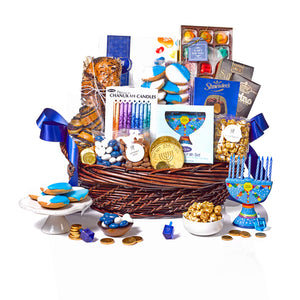 Abundant Hanukkah Gift Basket
Regular price $279.00 Sale
A showstopper Hanukkah Gift Basket packed with gourmet Kosher delights. Elegantly packaged that delivers a feel for the Hanukkah vibe.
This basket has unique essentials for the Holiday including premium hand decorated Hanukkah candles, A Mini Menorah and candles, and of course some dreidels. Indulge in some delicious and creamy chocolates, Babka & Rugelach. Deliver a basket like no other!
All items are 100% Kosher Pareve & are Pat Yisrael. Dairy Chocolates are Cholov Yisroel. 
This basket includes
Assorted Holiday Marzipan - 18 pieces
6 Blue & White Holiday Cookies - OU Pareve, Pas Yisroel 
Rolled Chocolate Wafers - OU Pareve 
6 Chocolate Rugelach - 

OU Pareve, Pas Yisroel 

Chocolate Babka Cake - 

OU Pareve, Pas Yisroel 

20 Flavor Jelly Belly Gift Box 
Torino Noir Swiss Chocolate Bar (Non-Dairy)
Dark Chocolate truffles (Non-Dairy)
Extra Large Milk Chocolate Coins - 2 
Milk Chocolate Coins 
Mini Ceramic Menorah & candles
Premium Hanukkah Candles - Hand Decorated 
Dreidels
Roasted Salted Almonds - 3 oz - 

 OU Pareve 

Gourmet Carmel Popcorn - 2.5 oz 
Blue & White Jordan Almonds 3 oz - OK Kosher Pareve 
Gift Basket & Ribbon 
Includes a Gift Card with your personalized message. 
Baskets are subject to change to equal or greater value.